"The process of painting ...is conceived of as an adventure, without preconceived ideas on the part of persons of intelligence, sensibility, and passion. Fidelity to what occurs between oneself and the canvas, no matter how unexpected, becomes central." (Robert Motherwell, Preface, Seventeen Modern American Painters, Frank Perls Gallery, 1951)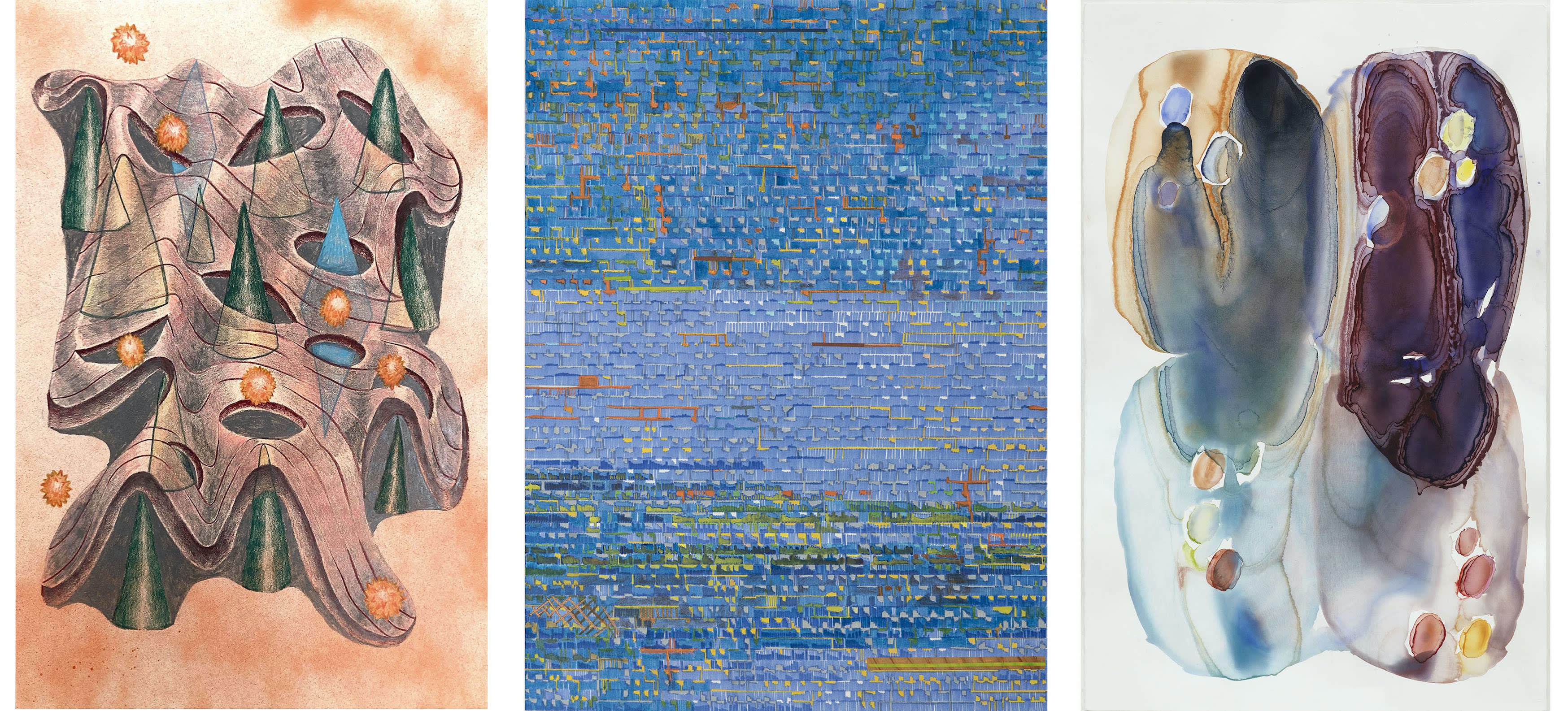 Rita Evans - 'Untitled No 12', 2020, 57 x 38 cm, Nina Dolan, 'City Lights No 2', 2018, 75 x 56 cm, Barbara Nicholls, 'Residue No 10', 2016, 74 x 60 cm
This exhibition features a selection of works on paper by three contemporary abstract painters — Nina Dolan, Rita Evans, and Barbara Nicholls. In these worlds of abstract beauty and mystery, we find ourselves immersed in this place of fidelity. This work is an exploration of improvisation revealing varying influences including the legacy of abstract expressionism, the autonomous practice of surrealist experiment, music and the most enduring muse of artists throughout history – the natural world. It is artistic process that is afforded preeminence here, and what emerges is a sense of sublimity and the reflective, the pastoral, abstraction as ghostly trace and elemental studies of aqueous colour.
Nina Dolan
Nina Dolan's calligraphic lines and imagery draw comparisons to the intricacies of Paul Klee and the idiosyncratic nature of the work of Joan Miró. In the almost mathematical works included in the exhibition, Dolan explores line and gesture in thoughtful linear work that evokes the tactile surface of woodcuts and the reveals the "risen mark." The artist shares: "I made up my own formulae to hold the mark and found various ways to make this image. I wanted to capture a moment in time." As such, Dolan's practice feeds off of accidental relationships between medium and composition. As well, the artist's connection to music and classic dance inform her practice: "movement comes into taking a line for a walk or even when pouring paint, like performance." Most recently, Dolan began a new process of drawing into paint. She begins with a dried layer of paint working to create shapes and grids revealing shapes that "come from the real world as if a visual dictionary in my head." Dolan notes while she cannot explain fully the condensation of these images, they do refer in part to her interest in the pictograms of Egyptian sculptures, Rosetta stone marks and Assyrian reliefs seen in the British Museum.
This is an evolution of form, best described as a form of contemporary automatism. As the artist begins, stories, ideas and words and sketches function as emblems of journeys and experiences. Imagery reveals itself through a fluid artistic approach creating the dense textile like surface of her networked multi-media works. Stippled pigmented lines and shapes seem to be at the intersection of intricacy of tapestry, and the mark making of pointillism and abstract expressionism. In all of the work, Dolan's way of layering colours, marks, brush, tape and paint build a linear yet sculptural sensibility. There is, a methodical yet organic feel to this haptic automatic work.
And so, Dolan seeks to capture something poetically transient noting her approach is inspired in part by Taoist philosophy. In this way, Dolan's commitment to the expression of the ephemeral, and material experimentation have allowed the artist to create an abstract visual iconography of movement quite her own.
Rita Evans
Rita Evans's works on paper are also an admixture of autonomous practice and creative improvisation. Evans's drawings are composed on handmade paper with colour pencil, graphite, felt tip and biro pens as well as spray paint. A luminous delicacy of abstraction and the surreal evokes the Martian landscapes of Yves Tanguy. Evans's process is linked to the pictorial expression of music and emerges symbiotically in relationship to her role as a musician and collaborative performer. Alternative universes feature strange shapes and the echo of sound and music revealing her interest in "the relationship between the shapes of the sound making objects and the 'shapes' of the sounds they make" and builds her own sculpture-instruments through an improvisational process which is, in turn, mirrored in her drawing practice.
Evans shares that she often begins with diagramming and sketching ideas for new playable instrument-sculptures and performance realms, "translated for imaginary spaces as drawings." This can also happen in the inverse as an expression of a performance and the forms and sounds that emerged from these collaborative acts. While the projects are linked, it is a symbiotic relationship. By responding to unique elements, moments, tones and forms the drawing takes on a different role depending on the project – preparatory work, documentation and or stand-alone artworks.
Other inspirations include the world of aquatic forms – a space where a newly imagined "way of being" offers models for form as we see in the Aqueous Spine and Multi Breath Poly Pipe Instruments which appear as if creatures replete with bodies constructed of porous material and pipes. These shapes metamorphosize in drawings that echo the jelly like composition of aquatic bodies.
It is the beauty of this folding and unfolding that is expressed in Evans' atmospheric drawings and innovative objects. Evans's treatment of sculptural form in the drawings deepens the complexity of her work, adding an element of abstraction and contemplation reflecting in turn, the relationship between sound and the visual world as she expresses so poetically "the shape of sound."
Barbara Nicholls
Barbara Nicholls's large scale watercolours on paper are movement of colour across surface, traces of water and pigment as if sediment flowing. Pools of transparent expanses of pigment form circular traces, spectral imprints of the performative act of painting. Vibrant colour and organic patterns and shapes reflect the elemental movement of nature, the tones, surface, structures, and texture of the earth — rendered in a place of imagined and observed beauty.
The artist shares that her work begins with the experience of nature: "I spend much time in the Peak District of the English countryside and other remote landscapes. Some are semi agricultural with their straight edged fields and some just craggy rock pavements. I have worked in an ancient dried lakebed in Lake Mungo, NSW Australia and walked through glaziers in Patagonia…."
Like Helen Frankenthaler, Nicholls's practice is founded on technical experimentation in painting. She uses a system of pouring water, watercolour, fans and heat to create her images. To begin, Nicholls applies water with a mop brush and watercolour paint is added to the wet areas. The artist will add up to ten applications of paint creating a sense of layering and geological strata, areas of the paper appearing as if illuminated light and glassy stone. "I encourage capillary action where water molecules are attracted to paint particles and are transported against the forces of gravity caused by the undulating paper. Surface tension creates an actual tension in me as I load more water onto the surface judging whether the pool will burst like a dam and flow down the hill of the paper or sit like a drying lake awaiting for the next rains."
In these transparent pictures of colour and watery expanses of the passage of time and elements, we are transported to a world of imagined splendour. Journeys through the natural world are evoked as an observed passage of time, of watery erosion, revealed traces of material and elemental flow.
While these three contemporary artists have divergent approaches to drawing, pigment, composition, line and gesture, they share an interest in the experimental potential of atelier practice and the work reflects a complexity of intersecting source imagery, precedents and expression. In this work, there is an expression of our universal yearning to return to the elemental draw of nature, to find peace in the sublime and the serene found in our earth. Evans's drawing reveals a new way of seeing sound and colour, Dolan explores a tactile linearism while Nicholls's work emerges as richly coloured purity of form.
This exhibition is an ode to the power of artistic experimentation and imagination, an expression of what Motherwell names as "what occurs between oneself and the canvas, no matter how unexpected, becomes central."
Text by Rosa JH Berland
Curated by Vivienne Roberts