THE ROAD TO UTOPIA - Studio- Carnival - Pardise, Curated by Rosa JH Berland
To visit this exhibition go to Viewing Room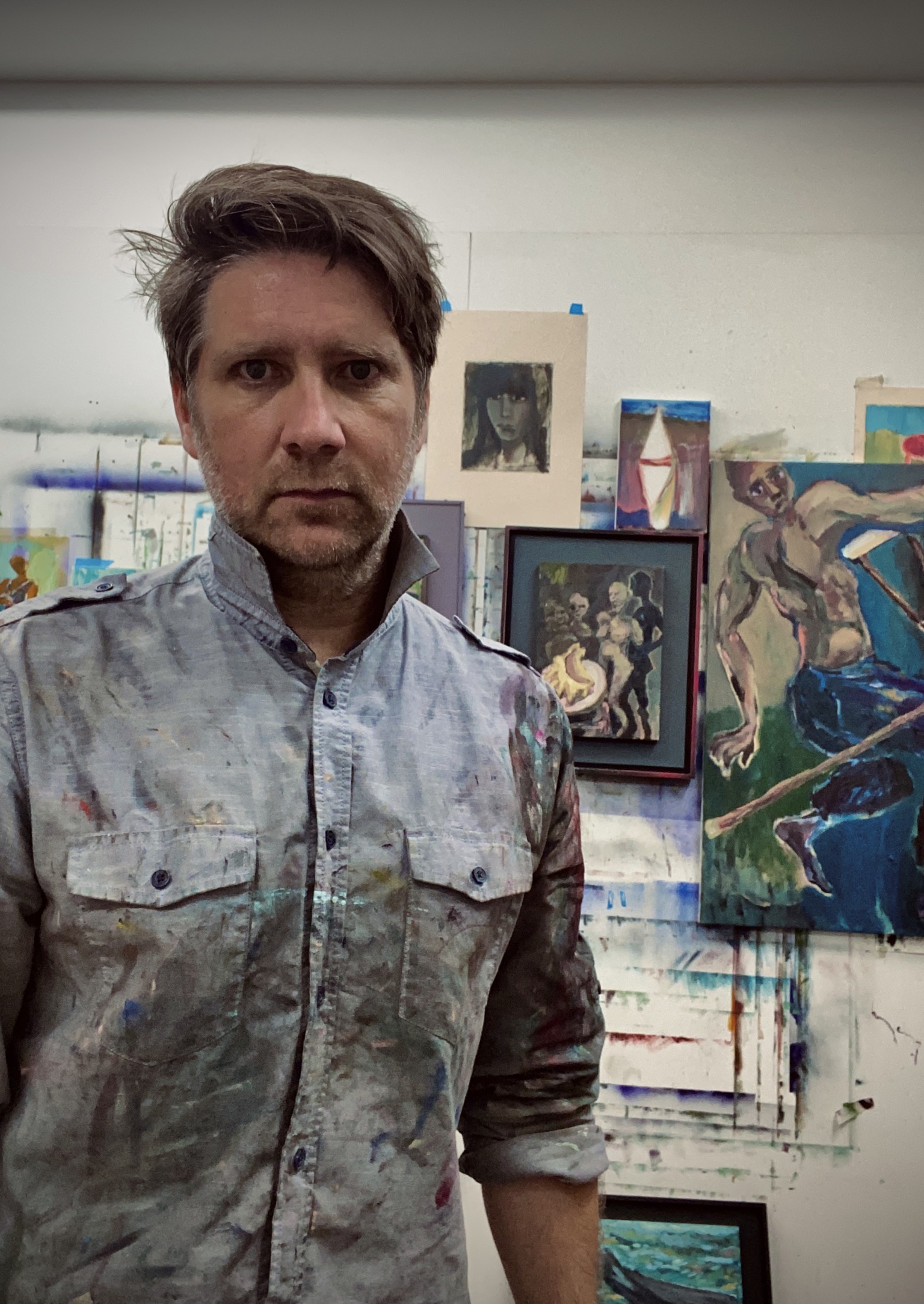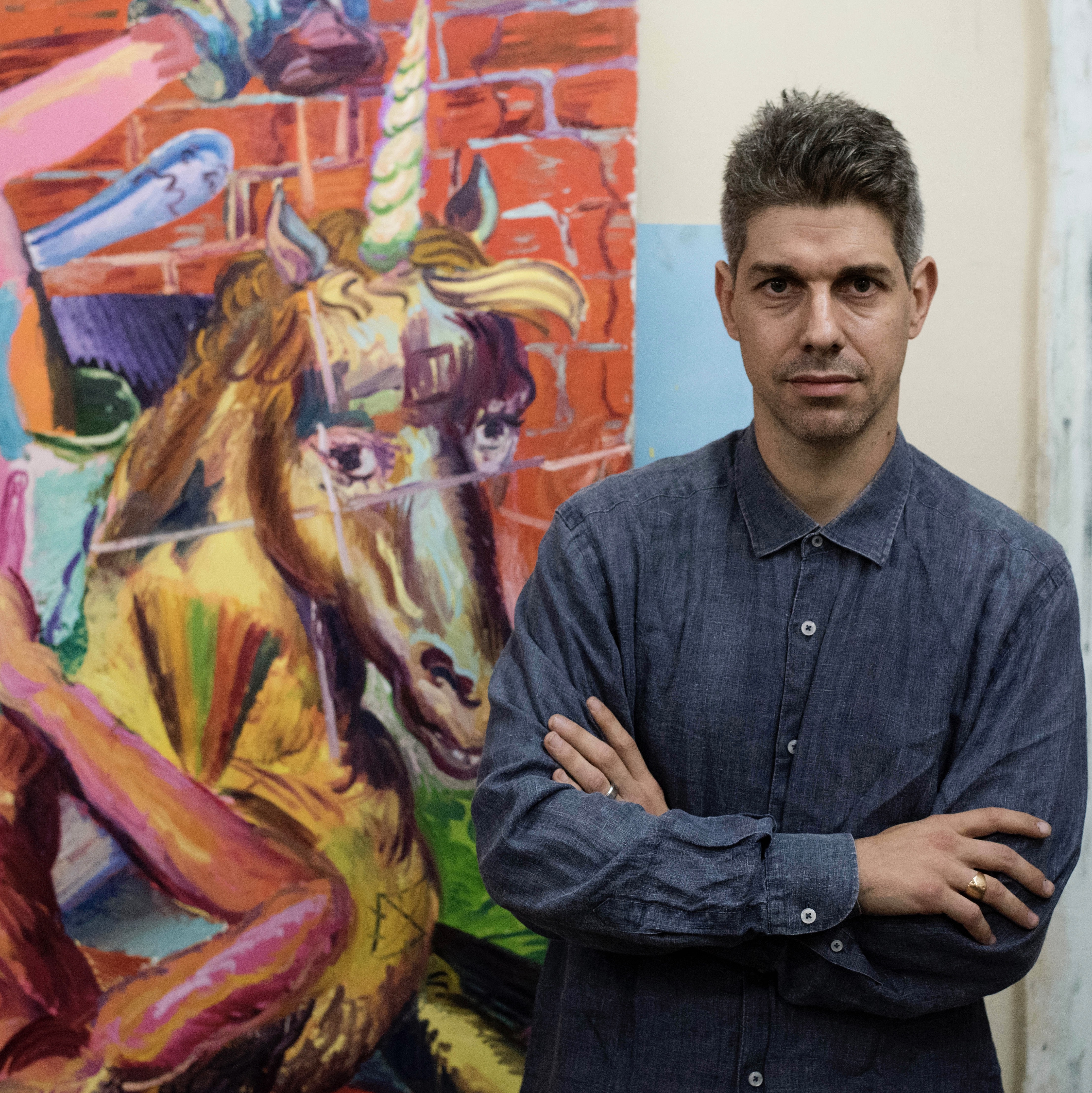 About this exhibition:
This exhibition features recent work by three contemporary artists: Alex McAdoo (United States), Lee Johnson (United Kingdom), and Jaime Valtierra (United Kingdom/Spain). For these artists, art is a means for re-negotiating identity, and a tool for socio-political criticism. It is also a source for the paradisal — a space invented entirely from the subjective artistic process, "a new church" as Expressionist artist Max Beckmann once said. Nevertheless, this is not a place of a singular sorrow, denomination, or ideal, but rather a series of often deeply private and lushly resplendent worlds populated by troubled protagonists, esoteric symbols, and a reconfiguration of identity and storytelling.
Drawing upon life experiences both profound and ordinary, the artists refer formally to historic masterworks and canonical modernist movements such as Expressionism, Fauvism, and Cubism, synthesizing these strands of influence to create contemporary imagery. Within this complex approach, McAdoo, Johnson, and Valtierra transform imagination into new spaces.
Alex McAdoo
Distinguished by a command of colour, theatre, and gesture, American guest artist Alex McAdoo's figural and narratival paintings are an exploration and inversion of Eurocentric histories and identity politics within the context of today's political climate — framed by the artist's personal experiences. McAdoo's painting takes vignettes of images, memories and the stories of history to create artworks that transform identity: "I want my body of work to contribute towards dismantling racism, and to give minorities going through the same things I went through content they can relate to and be inspired by." As such, works such as 'White Salmon Lodge' (2019) and 'Family in Livingston, Guatemala' (2019) explore the artist's identity as a multiracial person and his connections to many worlds, places that exist outside of a homogeneous narrative. The Livingston portrait of McAdoo's extended family is a painterly assemblage of memory and connections, the brushstrokes rendering a sense of the passage of time and an abstracted experiential connection to storytelling. Such abstraction and fluidity between worlds is seen as well in recent works such as 'Verushka' (2020) and 'Dancing Over Fallen Statue' (2020), where real people and elemental creatures emerge from layers of pigment.
In an entirely different style, 'Averroes, Maimonides, Aquinas' (2019), McAdoo's new take on history painting features the twelfth-century philosophers Ibn Rushid (Averroes) and Maimonides with the thirteenth-century Italian theologist and philosopher Thomas Aquinas. The composition of this work balances decorative and neo-impressionist areas of colour with a theatrical sense of movement. McAdoo juxtaposes contemporary details such as modern shoes and the serving of coffee with the archaic flowing robes of a religious philosopher, thereby challenging notions of continuity and identity. In this narrative, self-portraiture merges with genre, recalling the nonlinear arrangements of historic philosophers in paintings such as Raphael's 'School of Athens' (1509-11). Nonetheless, it is not the connection to these precedents that distinguishes McAdoo's work, but rather his affinity for synthesizing and reinvigorating formal elements with a sense of dramaturgy, as well as how he recreates storytelling in a voice that expands beyond the predominant European viewpoint of history.
This disruptively fluid and interconnected sense of narrative is also seen in McAdoo's 'Gwalior Park' (2018),whichdepicts the young artist with his friends engaged in "destruction" against a view of the Chaturbhuj Temple of Gwalior, India. An ambient clarity and strangeness reminds one of the painter Balthus, particularly in the treatment of understated tonal values. This is juxtaposed with a disjunctured sense of gesture which in turn symbolizes "a sense of not belonging." In this picture and others, McAdoo shares that "by placing people of colour in religious-appearing clothing I intend to challenge the idea that modern civilization was created by only white northern European Christians." The inclusion of such recast symbolism and historical motifs alongside autobiographical images reconfigures the narrative so it is rooted in the artist and his experiences with identity.
Jaime Valtierra
Like McAdoo, artist Jaime Valtierra's work begins with a transformation of art-historical images through the studio process. In the latest works, the artist uses a direct application of paint in bold unyielding colours rendered in a style that lies somewhere between Expressionism and the graphic imagery of Jean-Michel Basquiat. The right-hand panel of a large-scale triptych, 'Unicorn and the Egg' (2020) confronts "the world of human fragility, failure, and other side of human imagination and desire leading to the belief in impossible things." The picture responds in part to El Greco's painting 'St. Martin and The Beggar' (1597-1599), and refers to Marcel Duchamp's 1912 Cubist painting 'Nude Descending a Staircase, No. 2.' Within the dizzying tableaux of mark-making and narrative, we see the figure of Humpty Dumpty as well as the mythical unicorn. "In the work, they both connect via the fundamental concept of the fall, only through which its complete opposite can be known or understood. As I read it, this is the original meaning of El Greco's painting - humility or descent as an act that embodies two opposing figures."
The title of the left panel of the triptych 'Masters of the Universe' is a play on the French expression 'jouer des coudes' (elbow your way through). This 2020 painting evolved from a series of drawings and refers as well to James Gillray's 1797 print 'Midas, Transmuting All into Gold Paper' and Botticelli's Divine Comedy drawings of Lucifer. Valtierra's work functions as a contemporary version of the subject, the topic of "evil framed within human ambition and monstrosity behind it." In the two panels, there is an interwoven dialogue which oscillates between repulsion and fascination, the familiar and unfamiliar, a painterly and calligraphic dance of the profane and extraordinary. This approach connects the artist's work to the imagery of Philip Guston as well as to the German Expressionists.
Conversely, the centre panel, 'Dream of the Artist against the Spectre of Time' (2020), depicts a paradisal world populated by a seemingly endless parade of totemic imagery. The artist notes that the painting was inspired by 'The Tree of Life' by Ignacio de Ries (1653). In Valtierra's image, the central protagonist's dream has become a painterly realm, "bringing forth abstract notions of time and the world and contemporary echoes of the figures of Christ and death seen in the de Ries painting."
Lee Johnson
If a strangely reimagined dream can be found in the expressive work of Valtierra, so too can we discover a respite from a troubled world in the images of artist Lee Johnson. Indeed, Johnson explores the ordinary moments of contemporary life as utopia, a paradise found in the recesses of the artist's mind, a wild place of reverie. Images emerge from words, studies of people, photographs or still life objects which may become animate in the process or rendered newly decorative and still. The artist remarks: "This expressiveness begins with an approach that is as a whole quite open ended…each painting develops its own form and language." Much of the artist's works are in fact about the "making of work," as we see in the painting 'Sculptor Sculpting' (2020). In this picture, like many others in Johnson's oeuvre, the subject emerges from a nocturnal background, illuminated by flat almost artificial light, transformed through the artistic process of experimentation.
Related to this alchemy of creativity, night scenes are prevalent in Lee's work. Night is after all an enduringly favourite subject of artists throughout history, and in works such as 'The Ceramicist's Studio at Midnight' (2020), night becomes by necessity a place wholly imagined. In these nocturnal moments of the inky dark, there is a magical sense of otherness as the artist works. Indeed, Lee shares that for him "ideas come more to life in the quieter hours."
In some of Johnson's work, objects symbolize the dynamics of relationships, for example cats symbolize the rejection of others while works in the studio serve as "surrogates for friends or family." At times, Johnson's treatment of foreground and background confuses the symbolism or main theme, and the viewer becomes lost in the spatial realm of his paintings; a flat patterned world where a darkness creates tension between decoration and figuralism, recalling images from Japanese printmaking and the interior scenes of Henri Matisse. On the other hand, in neo-Expressionist works such as 'Dancing on Holiday' (2020), the artist's hand is readable, marks of paint transect the surface, deep and often contrasting hues overlap the figures or interior scenes, creating a window into a world that is at once ornamentally beautiful and imminently unreadable. Of this achievement of visual poetry, Lee shares: "I'm not designing an image; I'm feeling my way through the painting."
Painting as such is a road to utopia, forged in the heart of the artist. In this selection of new contemporary painting by Alex McAdoo, Lee Johnson and Jaime Valtierra, we see that art is many things: a place of celebration of the wild recesses of imagination, the poetry of artistic process, a negotiation of identity, and the unveiling of the tragedy of political and economic systems.
Rosa JH Berland