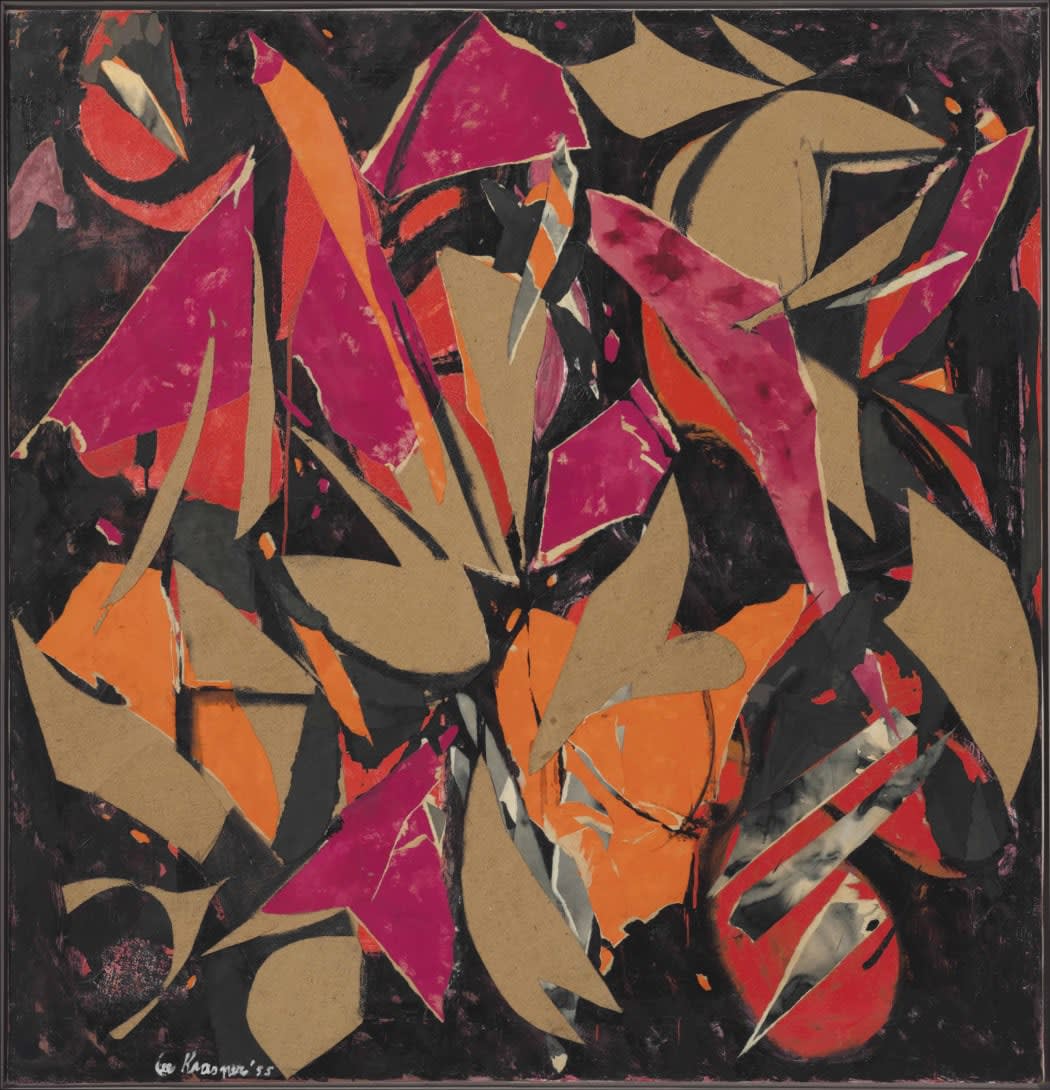 Lee Krasner (1908–1984) worked in the shadow of her husband, the much celebrated Jackson Pollock, for most of her career. Like many, I had been aware of her work over the years but knew much more about Pollock.
Her stunning show at the Barbican Gallery last year emphasised how unjust it was that she had not had the same recognition as Pollock during her lifetime.
The show, Lee Krasner: Living Colour, was the first major exhibition of her paintings in Europe for more than fifty years and contained almost a hundred works that took us on a journey through her working life. As an overlooked female 20th-century artist and a first generation abstract expressionist, it was exciting to see her work finally getting the attention it deserves.
Her incredibly physical practice instantly captivates you, the rich materiality drawing you closer to the works. And as a painter myself, it was one of those shows that made me want to get straight back into the studio. Exciting me about the possibilities of painting and collage - reinvigorating the eyes and the senses.
'I like a canvas to breathe and be alive. Be alive is the point.' Krasner said.
She plays to the organic properties of materials. Raw canvas, torn edges, layering, lively mark marking – a process based painter whose appetite for in depth exploration of the medium is very evident. A painter's painter.
Krasner was always looking for something new within her practice and resisted having a unified style of painting. This was advised against by gallerists and dealers, but she refused to play to the art world or art market. This search for continual reinvention had its drawbacks: notably, the art critic Clement Greenberg had a show planned with Krasner, but then cancelled it when he decided he didn't appreciate her newer work.
"Painting is not separate from life," Krasner said. She wanted to stay true to herself, and didn't see why she should filter what she was making in the studio in order to fit a mould.
This is an issue that is still very current to artists today. Are continuing bodies of work instantly recognisable? Is there enough of a visual brand from year to year? Galleries often want to know what they are buying into and shy away from risk. And this is something that impacted Krasner in terms of her commercial success.
Throughout her life Krasner was so critical of her own work that years of paintings and experiments were destroyed along the way. She would rip up and shred whole bodies of work, but these destructive periods often brought significant and fruitful revelations.
After an unsuccessful show she once tore up every drawing in her studio, which then lead on to her first collage works. She started to cut into her old canvases and reconfigure elements of them, partly influenced by Matisse's cut-outs.
Made from canvas, shreds of paper and sackcloth, the collage works are the most powerful and freeing for me. In my opinion, this seemed to be the most playful and positively intense period of work. That way of making really suited her sensibilities with materials – and appears as though she had really found a solid visual language.
"I'm constantly going back to something I did earlier, remaking it, doing something else with it and coming forth with another more clarified image" she said.
This way of working really resonates with me. Bringing elements of past or older works through into newer paintings – collecting successes and discarding or reusing failures. Something lost and then re-found - a cycle of destruction and renewal. Each work has a back-story of history and an interesting path to completion.
After Pollock's death in 1956, Krasner moved into his large barn studio and started painting at night due to her insomnia. Huge unstretched canvas' 15ft in length, full of chaotic mark making as she painted through the tears of grief. Her state of mind is contained within the canvases. Since she disliked working with colour in artificial light, she used only shades of umber and white with an almost dry brush over the canvas. Reducing her palette allowed her to concentrate on the almost aggressive and very physical way she was using brushes at this time.
Krasner periodically went through times of removing colour in her paintings and then a few years later would start bringing them back in – somewhat reflecting the goings on in her personal life.
When we view her works we go on a journey with her through her tumultuous life, and this was incredibly evident at the Barbican show. As she says, her paintings are like a diary: "If you want to know about my life, look at my paintings".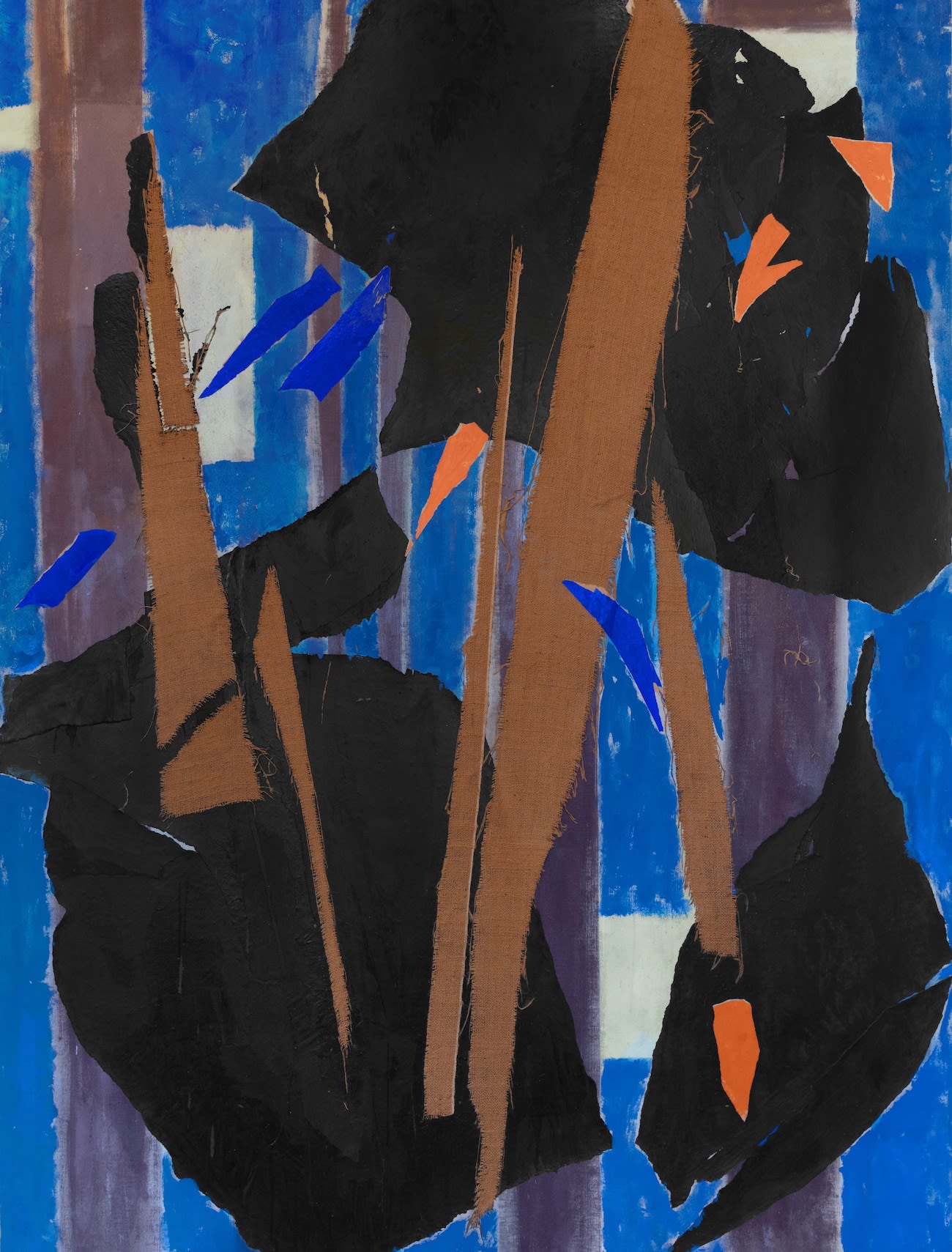 Lee Krasner, 'Blue Level' 1955. copyright Diego Flores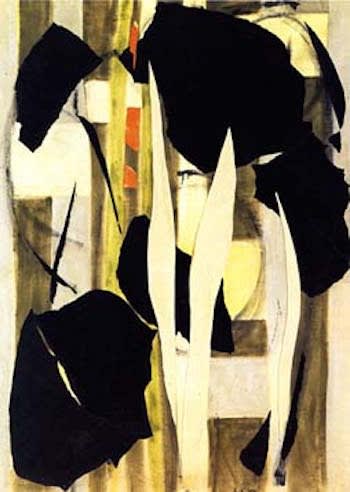 Lee Krasner, 'Milkweed' 1955. Albright Knox